6th Annual Duck Race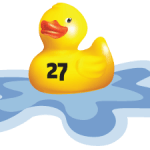 Friday, August 23, 2019
IMA Brookwood Golf Club

5-7pm
Come cheer on your duck as we launch them into the Kearsley Creek.
First duck to cross the finish line wins!
$10 per Duck
1st Place:  2020 Single Season Golf Pass @ IMA Brookwood Golf Club or $500!
2nd Place: 32″ Flat Screen TV
First 10 Ducks that cross the finish line win a prize!
WINNER NEED NOT BE PRESENT TO WIN!
Duck tickets can be purchased at IMA Brookwood Golf Club up until race time August 23rd!
For details call Diane (810) 249-7060.